I went walking with a friend last week and she told me she's lonely and hates getting on FB because everyone has such a perfect life. (Not true, but I definitely see her point.) And now our church is challenging us to share our stories. We all have one. And I gotta be honest, sometimes I hesitate to share my story and not for the reason you may think: I don't have a dark and troubling past that I'm afraid will come to light. I hesitate to share because it's kind of dull. But in light of our conversation, and in case anyone ever sees my adorably cherubic children on FB (as pictured above) and thinks my life is perfect, this story should set the record straight. I mean, just last night I had an epic 1.5 hour dinner battle that resembled a war scene and ended in tears from everyone in the family and I can only assume, our neighbors as well.
But I digress. My Story:
I grew up in the church and was baptized at 13. I had some semi-wild teenage years, but then settled down and got married and had babies and kept going to church and kept loving Jesus. Blah blah blah, right? No addiction to crack or alcohol to overcome. No broken homes or abusive relationships. I mean, I grew up on a cul de sac with my two siblings and a dog and my parents are still married 47 years later. Believe me, I'm so thankful for my upbringing, but if my life were a movie, nobody in their right mind would actually pay to go see it. Booorrrriiinnnngggg. Well maybe they would go to the $1.50 on a Tuesday when the popcorn is only $1, but still, I'm pretty sure they would rather be watching anything else.
But here's the thing: It's still my story. And what it lacks in excitement, it makes up for in loyalty. And not my loyalty to Jesus, but His loyalty to me. I recently started a new job and one of my new friends said to me the other day, "do you ever have a serious conversation? You're always so jokey." And I got really defensive and tried to be very serious the rest of the day. (which if you know me....is quite the impossible feat and probably lasted about two minutes but it was the longest two minutes of my entire life......) But then I thought, you know what? This is my story and I worked really really damn hard for my happiness. Why should I suppress that?
Because the truth is, my story, like everyone else's, has some bumps in it. Trenches. Pot holes. It's not a pretty package, tied up nice and neat. And while my life may not have had Hollywood Excitement, it has had heartaches that have at times, broken my spirit. For example, most people would not know that I had a deep deep struggle with depression after the birth of my third child. I'm talking want to run your car into a tree and trying to convince your husband that he can find a much better wife and mother for himself and his children than me. Thankfully he didn't listen, although I'm sure there are times he regrets not taking that out years ago. It was dark, people. There were days and days and days where I just laid in bed and cried. I wanted nothing to do with my children or my life. Happiness was a pipe dream that I was convinced I would never see again. Before it happened to me, I was one of those super annoying people who thought depressed people just needed to "get outside, take a walk, and get over it." I was one of those people who thought you could just "pray your way" out of depression. I no longer think that.
Then, as I was slowly climbing my way out of that hole with the help of therapy and medication, we got hit again and again and again with a sick child. With a child who failed to thrive. With a child who was diagnosed with a chronic disease that literally is interpreted as "allergic to food." Ponder that for a minute: Allergic to the very thing that sustains us. We got hit with a child who needed long hospital stays and a feeding tube just to survive. We got hit with autism, and medical bills, and speech therapy bills and occupational therapy bills and physical therapy bills. I mean, if a therapy existed, we needed it to get to where we are today. We had to sell our home just to make ends meet. That child is 9 years old now and still gets the bulk of his calories through a hypoallergenic formula that costs $40 for one small can. That sucks people. No way around it. Imagine being in third grade and having to drink baby formula in front of your classmates? Sucks.
And as a mother, I literally can't describe what it's like to watch your child go through all that. There are no words. And to say my loyalty and faith waivered would be a lie. They plummeted. My faith in God fell faster than Milli Vanilli's popularity after getting busted lip syncing. And yes, I'm definitely showing my age here.....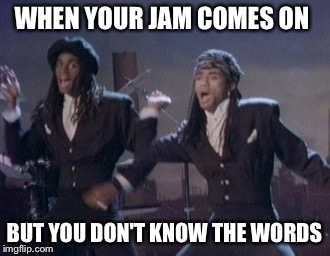 My husband is a pastor so I still went to church but I was straight up faking the emotions. I was so angry with God for not answering my prayers, for not taking the pain away from Owen and giving it to me instead. For cheating my older two kids out of a "normal" childhood that was focused on them. For allowing them to not only feel the hurt of their brother suffering, but to also feel like they always take a back seat to his needs. Because fair or not, they do. I was angry with God for hurting my marriage, for really putting a dent in it. I didn't want to fight for my child and my marriage at the same time. It was too hard. I was tired of feeling like God was ignoring me. And I will never ever forget the day when I said to a friend, "I'm done. I'm not even talking to Him anymore. He doesn't listen. He doesn't do anything about our pain." And her response still resonates with me today:
"I'll talk to Him for you."
She didn't judge me. She didn't say I needed to stay strong. She didn't say "you can't turn your back on God." She said, okay, I've got you. I'll pick up where you left off. I'll go to Him for you.
And she did.
She carried me until I was ready again. You see, my loyalty to Jesus waivered, but He never left my side. I didn't see it at the time, but He was answering my prayers. Definitely not answering them in my time frame, but He was answering them. Today? My marriage is still intact. My children are relatively well adjusted. That move we had to make? I wouldn't trade the friendships we've made in our new neighborhood for the world.
I've gone through ALL the stages of grief (multiple times) and I've finally (and for the time being) come out on the other side. It was not a ride I would wish on my own worst enemy.
Please don't get me wrong, my life still has the same struggles, but I see them in a different light now. I know that those struggles don't define me or my family. I know that no matter how far I try to distance myself, God never leaves me. His love is unwaivering. He is loyal to a fault.
So this annoying happiness that you see? I worked freaking hard to get here and I know I'm a lot to take. In fact, I often start with that when introduced to new people: "I'm a lot to take so just kick me when I annoy you." My shins hurt sometimes afterward, but some people just need to come with a warning label and I'm one of them. I'm okay with that.
And this meaningful life? This happiness? It comes from Him. It comes from the security of knowing that He always has my back even when I don't have His. It comes from digging out of the trenches and being able to see the beauty in our struggles. And believe me, I don't see that every day. There are days where I still struggle. A lot. Life is far from perfect. I know life is two steps forward, one step back (actually sometimes it feels like 2 steps forward, 1400 steps back.....)
And maybe you have a similar story with a different ending? Maybe your marriage did crumble? Maybe you're still sad? Maybe your loneliness is soul deep and you still feel broken? I promise you, IF you are still reading and you get NOTHING ELSE out of this story, please know that YOU ARE NOT ALONE. If you're there: if you're struggling with depression, if you feel broken, if you're lonely, if this boring story resonates with you in any way or you need someone to talk to? I'm here or I can help you find help. Please reach out. Judgement Free Zone. I promise! And I also promise I can have a serious conversation. I really can.
But I will also be very tempted to make you laugh, so please be prepared for both.
We each have a story to share and mine isn't wrapped in a shiny package with a neat bow tied on top. It's still a work in progress.
But it's my story. And I'm sticking to it.